About Child & Youth Mental Health
As an integrated child and family services agency, we offer Child and Youth Mental Health (CYMH) services to families with children (under the age of 18) living in the District of Muskoka. Our services are available in both English and French.
How to access our CYMH services
The way to access our services is by scheduling a session through our Muskoka Child & Youth Mental Health Counselling Clinic.
The clinic provides an option for quick access to therapy services for families with children and youth between the ages of 0-17 years of age. It enables the participation of all family members to see trained therapists at their chosen moments of need and is intended to create opportunities for immediate problem solving and therapeutic conversation.
Sessions with therapists are currently being scheduled by appointment and offered virtually (by phone or video) on Tuesdays and Thursdays or in-person on Tuesdays in the Huntsville office and Thursdays in the Bracebridge office. Scheduled appointments can also be arranged in our Gravenhurst location. During winter hours, appointments are scheduled between the hours of 11:00 am and 5:30 pm. September to June, sessions are available between 11:00 am and 7:00 pm, with the last session starting at 5:30 pm.
Call (705) 645-4426 x 6270 to schedule an appointment
**If these days of the week or times do not work for you, please speak with our Intake Clinician about making alternate arrangements**
Child & Youth Mental Health Crisis Line:
Our confidential 24/7 crisis line can be accessed by calling 1.844.287.9072. Trained Crisis Clinicians are here to help children, youth, their parents/caregivers who are experiencing a mental health crisis. When connecting with our crisis line you will speak to a trained respondent 24/7 who will listen and connect you to the right help.
Living in Simcoe County, or The Districts of Nipissing or Parry Sound?
The following is a guide to Mental Health Resources for Children and Youth in Simcoe and Muskoka: Feelings Pathways
In the County of Simcoe, Family Connexions works with community partners for referrals to support specific child and youth mental health concerns. For more information visit NewPath and Kinark, La Clé.
For families in the Nipissing and Parry Sound District, please visit Hands The Family Help Network Child and Youth Mental Health services.
For a full list of the various programs offered by the Family Connexions CYMH team, please click here.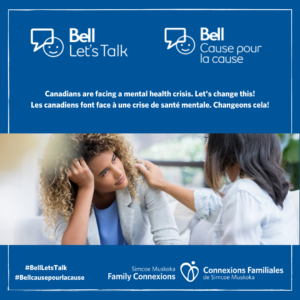 Each year, the Bell Let's Talk awareness campaign highlights the mental health crisis Canadians are facing in very real and personal ways and issues a collective call to action and change.
We encourage everyone to be a part of the change by taking actions. More information about the campaign at https://letstalk.bell.ca/
As the core provider of child and youth mental health services in Muskoka, we are working collaboratively to deliver critically needed services to enhance the mental health of children, their families and the communities they are a part of.
In Simcoe and Muskoka we are experiencing an ever increasing need for mental health and wellbeing supports for the youth and families we serve in all programs. This increased need is evident across our sectors, provincially and in our own family and community. We are committed to enhancing our services to equity-seeking and Indigenous children, youth and their families through trauma informed and healing centered approaches and address the ways in which these families are disproportionately impacted by mental health challenges.