Board of Directors
Elected from across Simcoe and Muskoka, the Board of Directors is the governance body that oversees the operations of the agency. If you are interested in applying to be on the SMFC Board of Directors please contact us by e-mail or phone 705-726.6587
Your application will be reviewed by the Governance Board Committee.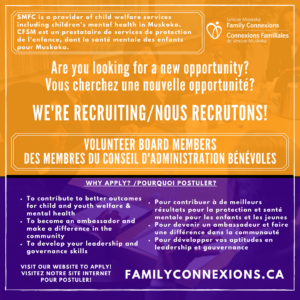 Sharon Pendergast
Board President
Gisele Forrest
Vice President
Gisele worked in social services for over 30 years within the Simcoe County and Toronto regions. She attended the University of Waterloo and completed a BA in Social Development Studies; She also completed her Masters of Education through Nipissing University.
She worked at Catulpa Community Support Services as a children's case coordinator and manager of children services for 15 years. During her time there she had an opportunity to network and partner with Simcoe County agencies to create programs and services for children, youth and families. Presently, she is the Director of Complex Special Needs Programs at Lumenus Community Services in Toronto.
She has been a Board member of Simcoe Muskoka Family Connexions for 2.5 years and currently serve as Vice Chair.
Debbie Opoku-Mulder
Secretary & OACAS Provincial Liaison
Hans Muntz
Hans appreciates the service that SMFC brings to the wellbeing and success of our shared community here in Simcoe Muskoka. It is the goodness of services like these that shape strong and healthy communities. He desires to see all children prosper and find meaning in their souls, families and communities.
As a husband, father, grandfather and engineer, he brings wisdom, experience, and skills to the SMFC Board.
Hans has served dozens of Ontario municipalities and several developing countries with leadership, performance management, organizational and operational capacity building. He was corporate administrator of a multinational federation of community development organizations focused on education health and welfare.
Geraldine Dooley-Phillips
Executive Director
Anna Drexler
Director of Organizational Excellence & Accountability
Tracy Johnson
Director of Services
Gordon Hill
Director of Finance and Property
Michael Bowe
Senior Equity Lead
Maureen Harrison
Human Resources Director